Our Recipe Collection
How to Cook Thai Jasmine Rice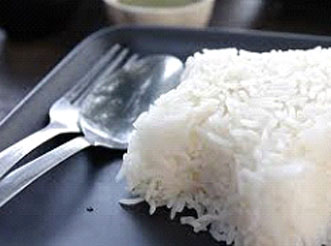 Find Thai jasmine rice, from Thailand if possible
Rinse the rice once, moving your fingers through the rice, until the water runs pure without any foggy water. Drain.
Place the rice in a pot. Add enough water to cover the rice by 3/4 inch. An easy way to measure the water is to use the knuckle test – the water should come up to the first joint of your knuckle. (For 1 1/2 cups rice, use just over 1 3/4 cups water).
Bring the rice to a boil, uncovered.
Turn the heat down to the lowest setting. Cover and simmer until the rice is cooked through (about 20 minutes).
Remove the rice from the heat and allow to sit, still covered, for at least 10 minutes.
Fluff with chopsticks or a fork before serving.
Tips: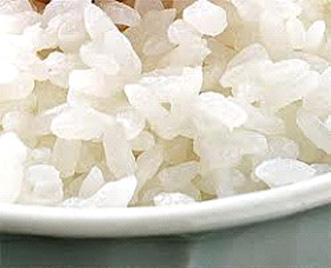 The amount of water to add can vary depending on the rice. New crop rice – rice grown in the same year – is not as dry and needs less water.
Cooking jasmine rice in a rice cooker can be tricky. Try reducing the amount of water called for in the rice cooker's directions - even to a 1:1 ratio if necessary.
1 1/2 cups Thai jasmine rice gives about 3 1/2 cups cooked rice.
Cold jasmine rice is very good for making fried rice.
Thai Jasmine Rice White, long grain - 1 3/4 cups of water per 1 cup of rice
Thai Jasmine Rice White, medium grain - 1 1/2 cups of water per 1 cup of rice
Thai Jasmine Rice White, short grain - 1 1/2 cups of water per 1 cup of rice
Thai Jasmine Rice Brown, long grain - 2 1/4 cups of water per 1 cup of rice
Thai Jasmine Rice Parboiled - 2 cups of water per 1 cup of rice